Aqualux System
$144.40
NEW ARRIVAL
Forget to water your plants, Aqualux System will do it for you!
Aqualux System is the new versatile system by Claber, for watering pot plants without the need of a faucet connection.
Aqualux can be assembled in just a few minutes and comes complete with a flexible 8-gallon tank. The integrated electric pump activates a drip irrigation system for watering up to 20 pots, choosing among 4 different daily programs (up to 4 weeks). The power supply system is innovative, with a USB adapter to connect it to the mains, or 2 AA rechargeable batteries, that guarantee operation for the full duration of the set program, even when there is no connection to the power supply. This versatile, reliable and easy-to-use solution sets up a drip irrigation system to meet the most different needs, leaving watering cans and faucets behind.
Life is easier and your house is greener with Aqualux System.
| | |
| --- | --- |
| Cod 8062 Aqualux System | |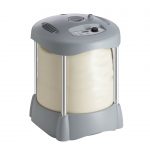 Aqualux System
$

144.40